SWEETPOTATOES: MOTHER NATURE'S BEST WORK
See Also: Sweet Potato Nutrition; Louisiana Sweet Potatoes;

Sweet Potato or Yam?; Trivia; Cooking Tips; Sweet Potato Quotes;

Sweet Potato Recipes

If you were to design the world's most perfect food, what would you put in it? In addition to great taste, you'd be sure it contained a powerhouse of nutrients. Of course, you'd also make it a good source of dietary fiber. And, since the sky's the limit here, why not make it fat-and cholesterol-free, low sodium, and easy to prepare. Sound like too much to ask from a single food? Mother Nature didn't think so. She's already provided us with this perfection in the form of a very unassuming vegetable: the sweet potato.

That's right, SweetPotatoes hide a veritable treasure trove of vitamins and minerals. They are a first-rate provider of vitamin A and beta carotene (a compound your body converts into vitamin A), both of which promote healthy skin, hair and eyesight. In fact, a serving of Sweet Potatoes has four times the recommended daily allowance for beta carotene. Believe it or not, one cup of cooked sweetpotato provides so much beta carotene that it would take 23 cups of broccoli to provide the same amount!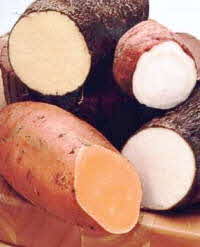 Sweet potatoes also contain significant amounts of vitamins C and are a fair source of vitamin E. Along with beta carotene, these vitamins make up the terrific trio of antioxidant nutrients scientists believe may help prevent heart disease and cancer, bolster the immune system, and even slow the aging process. One medium sweetpotato provides nearly half of your daily requirement of vitamin C. And, the fact that Sweet Potatoes are fat-free makes them a real vitamin E standout. Vitamin E is a fat-soluble vitamin, meaning that it is usually found in foods rich in fat such as vegetable oils, nuts and avocados. But one sweetpotato provides a healthy dose of vitamin E with no fat at all.
As if all this weren't good enough, Sweet Potatoes are also a great source of dietary fiber. When eaten with the skin, they offer more fiber than oatmeal! With all this for only about 120 calories per medium sweetpotato, you've got to admit it would be hard to find a food with a better all-around package.

Word of this extraordinary nutritional value is getting out. Recently, SweetPotatoes took top honors in two surveys focusing of the nutritional benefits of vegetables. In the first, The Nutrition Action Health Letter rated 58 vegetables from artichokes to winter squash, adding up the percentages of recommended daily allowances for six nutrients (vitamin A, vitamin C, folate, iron, copper and calcium,), plus fiber. Sweet potatoes scored a whopping 582; its nearest competitor, a raw carrot, came in at 434. The baked potato rated a paltry 114.

In the second survey the consumer watchdog group, Center for Science in the Public Interest (CSPI), rated the relative nutritional value of common vegetables based on their content of fiber, complex carbohydrates, protein, vitamins A and C, iron and calcium. Once again, the sweetpotato came out on top with a score of 184 compared to a similarly prepared potato, which came in at 83. Carrots, the self-proclaimed beta carotene king, scored only 30.
With all these facts it's easy to see why Sweet Potatoes, once reserved just for the holidays, should be considered year-round as an important addition to a healthy diet. If you're familiar with them only as a fat-loaded, overly-sweet Thanksgiving side dish, you'll be amazed at how much more SweetPotatoes can be! A great staple to keep on hand in the kitchen, they can be baked, microwaved, steamed, boiled, sautéed or grilled. Enjoy them on their own or in everything from entrees, salads and side dishes to muffins, breads and desserts.

Instead of a plain potato, bake or microwave Sweet Potatoes to accompany any type of meat, poultry or fish. Add chunks of SweetPotatoes to soups, stews and even chili. Raw SweetPotatoes can be peeled and grated to add to salads or thinly sliced to star on a vegetable and dip platter. Or, for a delicious change-of-pace breakfast, try a baked (or microwaved) sweet potato topped with low-fat yogurt and a drizzling of honey.

The evidence is in, so don't delay! Start making SweetPotatoes a regular and important part of your diet now. However you enjoy them, your taste buds and your body will thank you!
North Carolina SweetPotato Commission