See also: Celeriac; Celery History
Celery Root & Remoulade Recipe
Food for Thought - Oct 14, 2009 - Mark R. Vogel
[email protected] - Mark's Archive
Recipe below
The other day I had a hankering for Celery Root Remoulade, which is basically a celery root salad. Knowing that this glorious vegetable is somewhat elusive in American supermarkets, I decided to contact a few stores before making the trip. I called the first store and asked to speak to someone in produce. When the person answered I queried whether he had any celery root. He responded with a somewhat incoherent and befuddled: "cel-a-way roo?" I repeated my question and after a period of silence, he snapped "no we don't have it." It was apparent he had no idea what I was talking about. I repeated this process with the next grocery. This time the more articulate but equally dumfounded grocer quizzically said "Celery root? We have celery. Do you just want the base?" The third store left me on hold for what seemed like forever. Finally I just gave up, drove to a fourth supermarket and rolled the dice. I lucked out. They had two bulbs of celery root left on the shelf.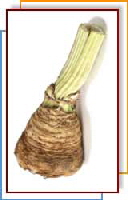 Celery root, also known as celeriac, turnip-rooted celery and knob celery, is a root vegetable related to celery. It is not the root, or the "base" of the standard celery commonly found in all supermarkets. Celery root, as the name implies, is grown and prized for its bulbous root, as opposed to the stalks of its more popular cousin. It arose from the same parental species that traditional celery did, many centuries BC in the Mediterranean region. It soon spread to Asia Minor. It played a role in medicinal and religious practices in the early Greek and Egyptian civilizations. But it wasn't until the 1700's that it fully entered the limelight in Europe. However, it never took center stage in England or America.

Celery root sports a gnarly, knobby, unattractive, light brown exterior, a fact that some cite for its failure to win popularity contests. This is a shame because it is it a delicious low-calorie vegetable with countless uses which we'll elaborate on shortly. Its exterior does render it a little more challenging to fabricate.
The gnarly skin penetrates the interior forming a network of crevices, all of which must be excised prior to use. You can employ a peeler but a hefty chef's knife does the best job. Hold the root firmly on top of a cutting board and with the heel of the knife, cut away the outer skin in a circumferential motion from pole to pole. The flesh is firm and similar to a turnip. The taste and smell, not unexpectedly, is similar to regular celery and pleasantly aromatic.
Select specimens that are heavy for the size and devoid of any soft spots or discolored blemishes. Celery root has good shelf life. It is claimed that if stored between 32 and 41 degrees it can last up to four months. However, since this is not the ice age, I seen no reason why modern man would need to do this. Just pop it in your fridge and try to use it within a week.
Celery root is low in calories and carbohydrates. A half cup has only 30 calories and 3 grams of carbs. It is an excellent choice if you're on a diet and need something that feels filling, but really isn't. It's also high in fiber. Celery root has been used in Chinese medicine to treat hypertension. This will come in handy if your pressure goes up trying to find it.
Celery root can be treated like any root vegetable. In fact, the ways that it can prepared and utilized seem almost endless. It can be boiled of course but roasting will accentuate its flavors most. Simply cut it into bite size pieces, combine with other root vegetables if you like, sprinkle with olive oil, herbs, salt and pepper and roast it in a baking dish until soft. Or treat it like a potato, cut it into cubes, boil it and make mashed celery root. Add some horseradish for some extra zing. Cut it into a small dice and sauté for a side dish. Slice it into "fries" and deep-fry them. Puree it for a soup such as a chestnut & celery root soup or cream of celery root soup. Use it in stews, casseroles, stuffings or gratins.

Finally, celery root can be used raw, ineluctably in salads such as the classic celery root remoulade mentioned in my introduction. Celery root remoulade is a classic French bistro dish. Here's my version of it:

RECIPE
CELERY ROOT REMOULADE
Ingredients
1 large celery root, cut into a thin julienne
1 medium carrot, grated
1 handful parsley, chopped
4 tablespoons mayonnaise
2 teaspoons Dijon mustard
1 generous squirt of lemon juice
Paprika, as needed
Salt and pepper to taste
Other optional ingredients include: chopped gherkins, capers, chives and vinegar

Directions
Simply combine all of the above ingredients.
If you have a mandolin, you can use the small julienne blade to cut the celery root. If not, slice it into thin rounds and then cut them into thin strips, (a.k.a. julienne).

Grate the carrot on the medium holes of a cheese grater.

Adjust the mayonnaise or mustard to make it creamier or more piquant.

As for the paprika, I simply sprinkle it in until the mixture develops a slightly pink hue.

Also Visit Mark's website: Food for Thought Online