TOMATILLO
Tomatillos are small fruits (used as a vegetable) enclosed in a husk. The fruit resembles a small unripe tomato and is usually green or yellow. The yellow color indicates ripeness, but tomatillos are most often used when they are still green. Green tomatillos are firmer and easier to slice. The husk that holds the fruit is paper-like and is light brown. The flesh is slightly acidic with a hint of lemon. Tomatillos belong to the same family as tomatoes.

The Aztecs first grew tomatillos as far back as 800 B.C. and they have been popular in Mexico and other Latin American countries for many years. In the US, they are mainly grown in Texas.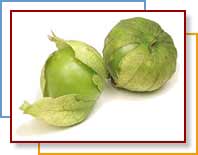 Selection
The condition of the husk is often a good indicator when selecting tomatillos. If the husk is dry or shriveled then the fruit is probably not in good condition. Select tomatillos that have an intact, tight-fitting, light brown husk. If you peel back a small part of the husk, the fruit should be firm and free of blemishes.

Canned tomatillos are available at specialty markets and are often used when making sauces. Tomatillos are available year round in supermarkets and specialty markets. Domestically grown tomatillos are available from May through November.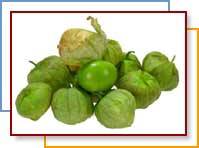 Storage
Fresh tomatillos with the husk still intact may be stored in the refrigerator for up to two weeks. They are best stored in a paper bag. Tomatillos last a week longer in the refrigerator if the husks are removed and the fruit is placed in sealed plastic bags. Tomatillos may also be frozen after removing the husks.

Preparation
The husks must be removed before preparing, but tomatillos in the husk are often used as decoration. Wash the fruit with soap and water to remove the film left by the husk. Tomatillos may be used raw in salsas or salads or cooked for sauces. Cooking enhances the flavor and softens its skin, but the result is a soupy consistency since the fruit collapses after a few minutes.


Make Tomatillos Part of Your 5 A Day Plan

- Slice tomatillos into salsa to add color and flavor.
- Add diced tomatillo to guacamole for an extra crunch.
- Top tacos with sliced tomatillos for a change.
- Liven up your soup with some chopped tomatillos.

NUTRITION
Serving size 1 medium (34g)
Amounts Per Serving - % Daily Value*
Calories 10
Calories from Fat 5
Total Fat 0g - 0%
Saturated Fat 0g - 0%
Cholesterol 0mg - 0%
Sodium 0mg - 0%
Total Carbohydrate 2g - 1%
Dietary Fiber 1g - 4%
Sugars 0g
Protein 0g
Vitamin A 0%
Vitamin C 6%
Calcium 0%
Iron 2%
* Percent Daily Values are based on a 2,000 calorie diet