WHITE PEKIN DUCKLING CHINESE SALAD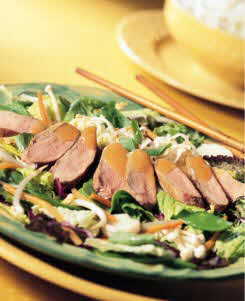 • 2 White Pekin boneless, skinless duckling breasts
• 1/2 t Chinese five-spice powder or combination of cinnamon, anise, fennel, cloves, black Szechwan powder
• Non-stick cooking spray as needed

DRESSING
• 1/4 C Duckling stock (may substitute chicken stock)
• 3/4 C Pineapple juice
• 1 T Cornstarch dissolved in 1 tbsp water
• 1/4 t Orange zest, finely cut
• 1 1/2 t Soy sauce
• 2 1/2 t Rice vinegar
• 2 t Sesame oil
• 1/4 t Chile oil
• 1/4 t Ground ginger
• 1/4 t Garlic powder
• Pinch salt; pinch white pepper

SALAD
• 6 C Lettuce or other seasonal greens, cut into serving size
• 4 C Cabbage (Napa preferred), cut into serving size
• 1/2 C Red cabbage, sliced thin
• 1/2 C Carrots, julienne cut
• 1/2 C Water chestnuts, sliced
• 3/4 C Mung bean sprouts
• 2 oz. (Approx 20) pea pods
• 3/4 C Sliced mushrooms (enoki or straw preferred)

GARNISH
• 1/2 C Ramen, chinese, or fried rice vermicelli noodles
• 2 Springs green onions, angle sliced
• 3/4 t to 1 tsp Toasted sesame seeds (optional)


1) Rub spices over the breast meat. Spray duckling with non-stick cooking spray. Cook duckling using high- heat method — either broil, sauté, or cook in 400° F oven — to desired doneness. Allow to cool.

2) Put stock and pineapple juice together into a pot. Bring liquids to a boil.

3) Whisk in cornstarch slurry. Remove from heat when dissolved. Strain liquid into a bowl and allow to cool.

4) Whisk other ingredients into cooled liquid to complete the dressing.

5) Prepare salad items on individual serving plates.

6) Slice duckling breast and place atop salad greens. Top with garnish and dressing. Serve chilled.

Nutrition information: servings, 4; calories per serving, 230; calories from fat, 45; total fat, 5 g; saturated fat, 1 g; cholesterol, 90 mg; sodium, 520 mg; total carbohydrate, 26 g; dietary fiber, 5 g; sugars, 11 g; protein, 21 g
Recipe & photo courtesy of The Duckling Council - www.duckling.org/