WHITE PEKIN DUCKLING ASIAN SALAD WITH HONEY MARINADE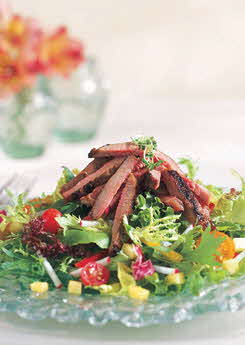 MARINADE
2 White Pekin duckling breasts
2 T honey
1 T fresh garlic, pureed
1/2 C soy sauce
1/4 C sesame and olive oil mix
1 T chives
1 T balsamic vinegar
1 T fresh dried ginger
4 T brown sugar
1/4 C sherry wine
1 T Asian 5 spices
1/2 T black pepper
1/4 C water

Mix marinade well and marinate duckling breasts overnight.

DUCKLING SALAD
8 oz Mesclun: mixed greens and spinach
4 radishes, sliced
2 whole Roma tomatoes, quartered
1 pineapple, sliced
8 oz julienne red pepper
2 oz sprouts

Grill duckling on medium heat for 12 minutes.

Julienne duckling breasts and cool.

Boil and strain remaining marinade and use as a dressing for mixture.

Place Mesclun mix in large bowl with duckling; add radishes and tomatoes. Garnish with pineapple and top with red pepper and sprouts.

Nutrition information: servings, 2; calories per serving, 511; calories from fat, 150; total fat, 18g; saturated fat, 3g; cholesterol, 63mg; total carbohydrates, 71g; dietary fiber, 9g; sugars, 54g; protein, 20g; sodium, 110mg
Recipe courtesy of The Duckling Council - www.duckling.org/