GRILLED TURKEY SALAD WITH DIJON MUSTARD DRESSING
Yield: 4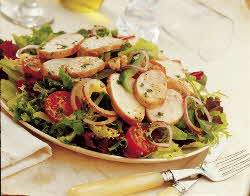 Ingredients
• 1 Pound Turkey Breast Tenderloins or Cutlets, grilled
• 12 to 16 cherry tomatoes, cut in half
• 12 to 16 small mushrooms, cut in half
• 1 small red onion, peeled, thinly sliced, separated into rings
• 1 medium sweet red pepper, cored, seeded and cut into long thin strips
• 1/2 cup parsley, coarsely chopped
• 1/3 to 1/2 cup Dijon mustard dressing, commercial or homemade*
• 4 cups torn mixed salad greens, chilled and divided
coarsely ground black pepper


1) With a sharp knife, cut grilled turkey across the grain into 1-1/2 " x 1/4" strips.

2) In a large bowl, combine turkey, tomatoes, mushrooms, onion, sweet red pepper strips and parsely.

3) Add Dijon dressing, tossing lightly to coat turkey and vegetables thoroughly.

4) Arrange about 1 cup crisp torn mixed salad greens on each of 4 small dinner plates.

5) Spoon turkey mixture onto lettuce-lined plates, dividing evenly.

6) Sprinkle each salad lightly with coarsely ground black pepper.


HOMEMADE DIJON DRESSING
• 1/3 cup white wine vinegar
• 1-1/2 teaspoon prepared Dijon-style mustard
• 1/2 teaspoon garlic juice or 1 garlic clove, peeled and minced
• 1/2 teaspoon sugar
• Salt and pepper to taste
• 2/3 cup salad oil


1) Whisk the first 5 ingredients listed above in a small bowl.

2) Gradually whisk oil into mixture until thickened and thoroughly blended.

3) Store covered in an airtight container in the refrigerator for up to 1 month.

Nutrition Facts per serving
Calories 300
Calories from Fat 128
Total Fat 14g
Saturated Fat 2g
Cholesterol 71mg
Sodium 71mg
Total Carbohydrate 12g
Dietary Fiber 3g
Sugars 7g
Protein 33g
National Turkey Federation - www.eatturkey.com/
Recipe Source: Cargill