ORANGE WHITE PEKIN DUCKLING SALAD
Servings: 6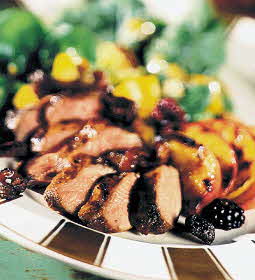 MARINADE
• 1/4 C Worcestershire sauce
• 1 oz Raspberry vinegar
• 1/4 C each Honey, chopped shallots, extra virgin olive oil
• 6 (6 oz each) Boneless, White Pekin duckling breasts
• 3 oz Marsala wine


1) Combine first 5 ingredients; add duckling. Marinate, covered, in refrigerator overnight.

2) At service, remove duckling from marinade. Remove skin; reserve. Grill until an internal temperature of 152° to 155°F. Resting should bring internal temperature to an ideal 160°F. Thinly slice breasts on the bias.

3) Sear skin, in skillet, until cooked half way; drain fat and cut skin into julienne strips. Return strips to skillet and finish cooking. When almost done, deglaze pan with Marsala wine; reduce. Remove strips (cracklings) from skillet; set aside.


CREAMY ORANGE DRESSING
• 8 oz Mayonnaise
• 8 oz Orange marmalade
• 1 1/2 oz Red wine vinegar
• 1 T each Cilantro, parsley, finely chopped
• Salt, pepper as needed

Combine dressing ingredients.


SALAD
• 12 oz Mesclun greens


GARNISHES
• 3/4 C Pecan halves
• 3 Peaches, sliced, grilled
• 1/2 pint Blackberries
• 1 1/2 C Golden tomato concassé
• White Pekin duckling cracklings

TO SERVE
Blend greens with dressing; arrange on plate. Place peaches on front side of greens and sliced duckling in front of peaches. Garnish with pecans, peaches, blackberries, concassé and duckling cracklings.

Recipe & photo courtesy of The Duckling Council - www.duckling.org/
William Thaw; Franklin Marriot Cool Springs, Franklin, Tennessee