TERIYAKI PORK SKEWERS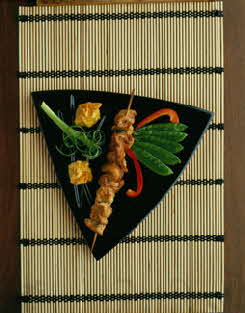 Serves 4

Ingredients
• 1 whole pork tenderloin, cut into 6x1/2x1/8-inch strips
• 2 tablespoons sliced green onion
• 1 tablespoon brown sugar
• 1/2 teaspoon dry ginger
• 1 garlic clove, crushed
• 1/2 cup soy sauce
• 1/4 cup dry sherry

Cooking Directions
In medium bowl, stir together green onion, brown sugar, ginger, garlic, soy sauce and sherry.

Add pork, toss lightly to coat well.

Cover and marinate in refrigerate at least one hour.

Prepare medium-hot fire in grill; remove pork from marinade, discarding marinade, and thread onto skewers.

Grill directly over fire, turning to brown evenly, for 4-5 minutes.
Serving Suggestions
Common pantry ingredients combine to transform pork to an exotic Oriental favorite. Make these on the spur of the moment—they take little time to put together. Serve Oriental noodles or hot rice, and a sliced cucumber and carrot salad with rice vinegar dressing.

Nutrition Facts
Calories 190 calories; Protein 23 grams; Fat 6 grams; Sodium 1860 milligrams; Cholesterol 75 milligrams; Saturated Fat 2 grams; Carbohydrates 4 grams

Recipe and photo courtesy of National Pork Board. For more information about The Other White Meat, visit TheOtherWhiteMeat.com