ROASTED RACK OF PORK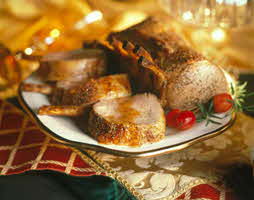 Serves 6

Ingredients
• 1 bone-in pork loin roast, 4-5 pound, chine bone removed
• 2 garlic cloves, crushed
• Coarsely ground black pepper

Cooking Directions
Heat oven to 350 degrees F.

Trim excess fat from pork loin and trim extra meat from between rib bones. This is called "Frenching" the bones; you can also ask your butcher to do this).

Rub all surfaces with crushed garlic and sprinkle generously with black pepper.

Place pork roast, bones up, on rack in shallow roasting pan. Roast for 1- 1½ hours, until meat thermometer inserted reads 150-155 degrees F.

Remove roast from oven, let rest about 10 minutes.

Cut between rib bones to serve.
Wine Suggestion: For an elegant dinner party, pour a Cabernet Sauvignon; for a summer dinner party, try a Zinfandel.
Serving Suggestions
This elegant, but infinitely easy, roast is the perfect centerpiece for a dinner party. Try roasting it on a covered grill, too. Serve with a French potato salad (dressed with vinaigrette), buttered green beans with dill, pickled beets, and a loaf of French bread.

Nutrition Facts
Calories 390 calories; Protein 44 grams; Fat 15 grams; Sodium 105 milligrams; Cholesterol 135 milligrams; Saturated Fat 8 grams; Carbohydrates 0 grams; Fiber 0 grams

Recipe and photo courtesy of National Pork Board. For more information about The Other White Meat, visit TheOtherWhiteMeat.com