RACK OF PORK WITH PARSLEYED CRUMBS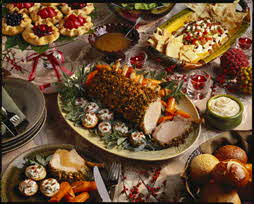 Serves 8.
Ingredients
• 1 rack of pork, chine bone trimmed, about 7 or 8 ribs
• Salt and coarsely-ground pepper to taste
• 3/4 cup coarse-grained mustard
• 1½ cups fresh breadcrumbs
• 3/4 cup minced fresh parsley
• 1 tablespoon dried thyme, crumbled
• 3 garlic cloves, minced

Cooking Directions
Heat oven to 350 degrees F.

Season pork with salt and pepper, as desired. Brush pork with 1/4 cup mustard.

In medium bowl, combine remaining mustard with remaining ingredients.

Press crumb mixture evenly over top of pork.

Arrange pork crumb side up in roasting pan.

Roast for 1½ hours, or until thermometer inserted into center of meaty part registers 150 degrees F.

Remove pork from oven and let stand 10 minutes; temperature should rise to 160 degrees F.

Carve pork, cutting between ribs, and serve.
Serving Suggestions
Wow your guest with this deliciously easy rack of pork. This surprisingly simple dish will steal the show at your next holiday gathering.

Nutrition Facts
Calories 420 calories; Protein 43 grams; Fat 20 grams; Sodium 860 milligrams; Cholesterol 125 milligrams; Saturated Fat 6 grams; Carbohydrates 18 grams

Recipe and photo courtesy of National Pork Board. For more information about The Other White Meat, visit TheOtherWhiteMeat.com