See also: Article on Carrots; Carrot Quotes
and Kitchen Tips
CARROT TRIVIA & FACTS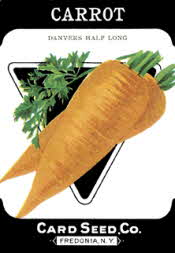 According to the USDA, 69,500 acres of Carrots were harvested for the fresh market in 2009.
An additional 12,500 acres were harvested for processing (canning, freezing).

There are 11 people in the U.S. listed on whitepages.com with the last name 'Carrot'
(Mark Morton, 'Gastronomica', Fall 2010)
Carrots are native to Afghanistan.
Red, black yellow, white, purple - these were the colors that carrots started out with. Everything but orange. Carrots were first cultivated in Afghanistan in the 7th century, and they started with yellow flesh and a purple exterior. It was the Dutch who developed the orange carrot, and the French in the 17th who most likely developed the elongated carrot, ancestor of the ones we eat today. The English brought the carrot to the New World.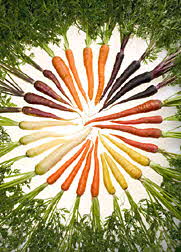 There were originally red, purple and black varieties of carrots that contained anthocyanin pigments. The yellow, and eventually orange varieties of carrots were developed in the 16th and 17th centuries, they contain no anthocyanin pigments, but rather carotenoids which are responsible for the yellow and orange color.
Today there are new red and purple carrot varieties available that contain anthocyanin pigments.

The carrot was brought to by colonists to the New World, where it escaped into the wild and became Queen Anne's Lace.

Mel Blanc, the voice of Bugs Bunny, was not very fond of carrots.

There is a round variety of carrot about the size of a beet. They taste the same as regular carrots.

FREE Magazines
and other Publications
An extensive selection of free magazines and other publications
FOOD TRIVIA and FOOD FACTS
Please feel free to link to any pages of FoodReference.com from your website.
For permission to use any of this content please E-mail: [email protected]
All contents are copyright © 1990 - 2023 James T. Ehler and www.FoodReference.com unless otherwise noted.
All rights reserved. You may copy and use portions of this website for non-commercial, personal use only.
Any other use of these materials without prior written authorization is not very nice and violates the copyright.
Please take the time to request permission.
CULINARY SCHOOLS
& COOKING CLASSES
From Amateur & Basic Cooking Classes to Professional Chef Training & Degrees
FoodReference.com (since 1999)
FOOD TRIVIA and FOOD FACTS SECTION