See also: Article on Cauliflower - Kitchen Tips - Quotes
CAULIFLOWER
Cauliflower (Brassica oleracea) is a 'Cole' crop, a member of the cabbage family that also includes Brussels sprouts, collards, mustard, turnips, kohlrabi, kale and watercress.

According to the USDA, 35,000 acres of Cauliflower were harvested in the United States in 2009.

There are also green and purple varieties of cauliflower. Another newer member of the family is Broccoflower, a cross between broccoli and cauliflower.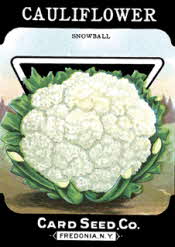 In France it is called 'chou fleuri.'

According to Mark Twain "Cauliflower is nothing but a cabbage with a college education."
The white, edible portion of cauliflower is called the curd, heart or head.

Those with thyroid problems should avoid eating large amounts of cabbage or cauliflower. They both interfere with the body's absorption of iodine, needed by the thyroid gland.

Please feel free to link to any pages of FoodReference.com from your website.
For permission to use any of this content please E-mail: [email protected]
All contents are copyright © 1990 - 2023 James T. Ehler and www.FoodReference.com unless otherwise noted.
All rights reserved. You may copy and use portions of this website for non-commercial, personal use only.
Any other use of these materials without prior written authorization is not very nice and violates the copyright.
Please take the time to request permission.
FOOD TRIVIA and FOOD FACTS
CULINARY SCHOOLS
& COOKING CLASSES
From Amateur & Basic Cooking Classes to Professional Chef Training & Degrees
FoodReference.com (since 1999)
FOOD TRIVIA and FOOD FACTS SECTION