See Also: Bighead Carp Article
CARP TRIVIA
Common carp (Cyprinus carpio) are domesticated ancestors of a wild form native to the Caspian Sea region and east Asia.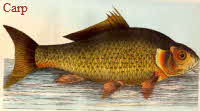 Carp is one of the most widely distributed freshwater fish in the world. Originally from Asia, the were probably introduced into Europe by the 13th century, and brought to the United States by 1876. The carp family also includes goldfish and minnows. In the Middle Ages monks raised them in ponds to provide food for fast days when they could not eat meat. It is frequently raised in ponds and lakes today.
Carp and herring account for about 50% of all seafood caught each year.
Carp tongue was considered a delicacy during the Middle Ages.
The carp was the mascot of the radio station WKRP on the TV show 'WKRP in Cincinnati' which ran from September 18, 1978 to September 20, 1982.

Please feel free to link to any pages of FoodReference.com from your website.
For permission to use any of this content please E-mail: [email protected]
All contents are copyright © 1990 - 2023 James T. Ehler and www.FoodReference.com unless otherwise noted.
All rights reserved. You may copy and use portions of this website for non-commercial, personal use only.
Any other use of these materials without prior written authorization is not very nice and violates the copyright.
Please take the time to request permission.
FOOD TRIVIA and FOOD FACTS
CULINARY SCHOOLS
& COOKING CLASSES
From Amateur & Basic Cooking Classes to Professional Chef Training & Degrees
FoodReference.com (since 1999)
FOOD TRIVIA and FOOD FACTS SECTION