THE MODERN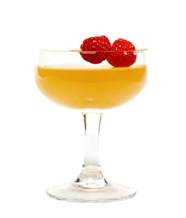 Summer is just around the corner, and what could be better than a refreshing new cocktail from Flor de Caña Rum to kick off the season? The Modern is a light, crisp cocktail featuring a blend of traditional and unconventional mixers gathered from all ends of the earth. The Modern is mixed with Rose Syrup, which traces its roots back to the Middle East, Agave Nectar from Mexico, as well as refreshing lime and apple juices.

THE MODERN

• 1.5 oz. Flor de Caña 7 Year Grand Reserve Rum
• ½ oz. Rose Syrup – Monin
• ¼ oz. Agave Nectar
• ¾ oz. Fresh Lime Juice
• 1.5 oz. Apple Juice
• 2 Raspberries inside glass


Shake with ice and strain into glass – garnish with raspberry.


Flor de Caña Rum, deeply rooted in Nicaraguan culture and history, is the world's most awarded rum. Flor de Caña uses only natural ingredients which guarantee its delicious and authentic taste. Moreover, Flor de Caña is the only rum with 100% true age statement, meaning that different ages are never blended.