Dandelion
One pound of raw dandelion greens will yield about 1 to 1½ cups of cooked greens (2 to 3 servings).

Dandelion greens are an excellent source of vitamin C, and all parts of the plant are high in iron and vitamin A.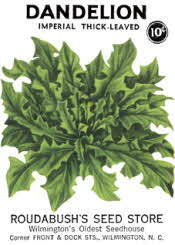 Dandelions are grown commercially and can be found in specialty produce markets health food stores.

Young, tender, spring dandelion leaves make an excellent addition to salads; they can also be cooked like spinach. Older leaves tend to be bitter. The flowers can be used to make dandelion wine.
DO NOT USE ANY PLANTS FROM LAWNS WHERE WEEDKILLING CHEMICALS MAY HAVE BEEN USED.

There is a traditional French salad dressing used for dandelion leaves, made with hot bacon fat and and chopped bacon pieces.

Dandelion roots can be chopped and used in salads or cooked. The may also be roasted and ground as a coffee substitute, although the flavor is nothing like real coffee and it contains no caffeine.