DILL (Anethum graveolens)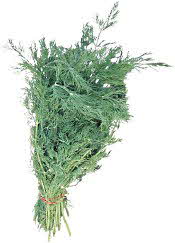 One pound of dill seed
= 4 cups
1 Tablespoon = 1/4 ounce

One pound of dillweed
= 10 cups
1 Tablespoon = 1/10 ounce

Dill Weed is more subtle and fresh in flavor than the seeds. It is characterized by sweet, green/grassy, tea-like and rye notes.

Description
Known for its feathery leaves and clean, fragrant lemon and anise aroma, dill is used as much as a garnish as it is a seasoning. Fresh leaves have the taste of anise and parsley.

Culinary Uses
Fresh dill pairs well with seafood, creamy sauces and vegetables such as beets, carrots, cucumbers, and potatoes. Many Scandinavian, Russian, German and Greek recipes call for dill. Wait until the end of cooking to add fresh dill, because it looses flavor when overheated. When using dill leaves, it is best to use fresh rather than dried to get the most flavor. Add finely chopped dill to potato salad, soups or rice for a fresh unique flavor. Mix dill, sour cream and horseradish for a great sauce for beef. Fresh dill combines well with basil, garlic, capers, horseradish, mustard, paprika and parsley.

Other Uses
According to some naturalists, the dill seeds contain a volatile oil that has a relaxant effect on muscles, especially those of the digestive tract, and has been used for centuries to cure such problems. Teas made with dill seed relieve indigestion and nausea, and produce a lulling effect.

Storing
Wrapped loosely in a plastic bag, dill will keep in the refrigerator for one week as long as the leaves are not wet. Dried dill will keep for up to 3 months if stored in a sealed container in a cool, dark place.
Fresh dill freezes well, Just put the feathery leaves in a plastic bag and freeze.