DANDELION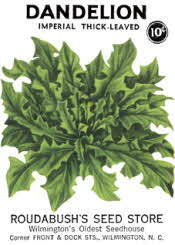 The dandelion (Taraxacum officinale) is a member of the Daisy family, Compositae, and is native to Europe and eastern Asia. The name comes from the French, 'dent de lion' - lion's tooth, referring to the jagged leaves.

Vineland, N.J., is known as the Dandelion Capital of the World.

Young, tender, spring dandelion leaves make an excellent addition to salads; they can also be cooked like spinach. Older leaves tend to be bitter. The flowers can be used to make dandelion wine. DO NOT USE ANY PLANTS FROM LAWNS WHERE WEED KILLING CHEMICALS WERE USED.

Dandelion roots may be roasted and ground as a coffee substitute. The roots can grow up to 5 feet deep.
In Wilton, Maine, there's a cannery that imports and cans only dandelion greens.