DANDELION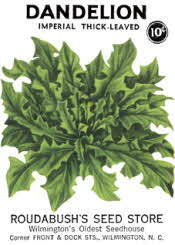 The dandelion (Taraxacum officinale) is a member of the Daisy family, Compositae, and is native to Europe and eastern Asia. The name comes from the French, 'dent de lion' - lion's tooth, referring to the jagged leaves.

Vineland, N.J., is known as the Dandelion Capital of the World.

Dandelions are one of the most widespread wild plants in the temperate regions of the world. Their nearest edible relative is wild chicory, which they resemble in in leaf appearance and slight bitter taste.

Dandelion roots can grow up to 5 feet deep, and have been at times used as a coffee substitute.
In Wilton, Maine, there's a cannery that imports and cans only dandelion greens.