See Also: Beef; Cattle; Cows; Ranches
DAIRY CATTLE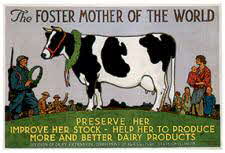 In 1970 there were almost 650,000 dairy farms in the United States. In 2010 there were only about 54,000 dairy farms. Large dairy farms dominate the industry today.

In 2007 there were 57,318 farms in the U.S. that specialized in dairy cattle and milk production, and 69,763 farms that reported sales from milk and other dairy products.

More than 50% of the total value of U.S. sales from milk and other dairy products come from the top 5 states: California, Wisconsin, New York, Pennsylvania and Idaho.

The Dairy Cow (Bos taurus) was designated as the Official Domestic Animal of Wisconsin in 1971.

U.S. dairy farms produce about 177 billion pounds of milk annually.
In 1950 there were about 24 million dairy cows in the U.S., each giving an average of about 5,300 pounds of milk per year.

The average annual milk production per dairy cow in the U.S. today is over 12,000 pounds.
A dairy cow consumes 35 gallons of water, 20 pounds of grain and concentrated feed and 35 pounds of hay or silage (a mixture of corn and grass) in just one day. (Agricultural Council of America)
In a year's time a dairy cow produces 1,500 gallons or 6,000 quarts of milk. The average U.S. dairy cow produces 22.5 quarts of milk each day. That's about 16,000 glasses of milk per year – enough for about 40 people. One cow can give 200,000 glasses of milk in a lifetime.

Dairy cattle remains have been found in various sites in the Near East (Turkey) that date to about 6,500 B.C., although they may have been domesticated as early as 9,000 B.C. The ancestor of all modern domestic cattle is the aurochs, the last of which was killed by a poacher in 1627 on a reserve near Warsaw, Poland.

The world's largest registered Holstein dairy herd can be found in Elsie, Michigan.

Wisconsin's 1.3 million dairy cows produce a year's supply of milk for nearly 42 million people, butter for 68 million, and cheese for 86 million."

The Jersey breed of dairy cattle originated on the island of Jersey, a British Island off the coast of France. It is one of the oldest cattle breeds, and is believed to be purebred for almost 600 years. (They were commonly called Alderney cattle before the late 18th century). Since 1789 they are the only breed allowed on the island of Jersey.

FREE Magazines
and other Publications
An extensive selection of free magazines and other publications
FOOD TRIVIA and FOOD FACTS
Please feel free to link to any pages of FoodReference.com from your website.
For permission to use any of this content please E-mail: [email protected]
All contents are copyright © 1990 - 2023 James T. Ehler and www.FoodReference.com unless otherwise noted.
All rights reserved. You may copy and use portions of this website for non-commercial, personal use only.
Any other use of these materials without prior written authorization is not very nice and violates the copyright.
Please take the time to request permission.
CULINARY SCHOOLS
& COOKING CLASSES
From Amateur & Basic Cooking Classes to Professional Chef Training & Degrees
FoodReference.com (since 1999)
FOOD TRIVIA and FOOD FACTS SECTION