See also: Palms
DATES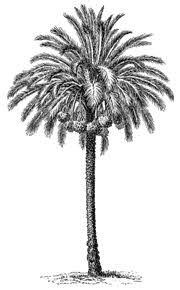 The common date palm, Phoenix dactylifera, is cultivated extensively throughout the world's hot dry regions.
The date palm's male and female flowers grow on separate trees and must be pollinated by hand. One male tree is sufficient to pollinate up to 50 female trees.
Arrack or Arak is strong alcoholic beverage made in the Middle East and Asia from dates or from the sap of the date palm tree. It is frequently flavored with aniseed.
Historians generally agree that almonds and dates, both mentioned in the Old Testament of the Bible, were among the earliest cultivated foods.
Date stones have been found in Egypt that date to 4500 BC.
There are 60 references to date palms in the Old Testament.
Dates contain up to 70% sugar by weight. The average date has about 24 calories and contains no fat or sodium.
The United States produces over 52 million pounds of dates each year, mostly in California. (USDA 2003)
California grows 99.5% of all dates grown in the United States, and Arizona produces the rest.
(USDA 2004).
The Coachella Valley in California is known as the Date Capital of the world.
The average date palm produces about 100 pounds of dates a year. A good date palm can produce 300 to 600 pounds of dates per year, and will produce for 100 years or more.

Please feel free to link to any pages of FoodReference.com from your website.
For permission to use any of this content please E-mail: [email protected]
All contents are copyright © 1990 - 2023 James T. Ehler and www.FoodReference.com unless otherwise noted.
All rights reserved. You may copy and use portions of this website for non-commercial, personal use only.
Any other use of these materials without prior written authorization is not very nice and violates the copyright.
Please take the time to request permission.
FOOD TRIVIA and FOOD FACTS
CULINARY SCHOOLS
& COOKING CLASSES
From Amateur & Basic Cooking Classes to Professional Chef Training & Degrees
FoodReference.com (since 1999)
FOOD TRIVIA and FOOD FACTS SECTION