See also: Coffee Facts & Trivia; Coffee Quotes
COFFEE
Remove bitterness from percolators and other coffee pots by filling with water, adding four tablespoons of salt and percolating or boiling as usual.

To prevent cream from curdling when adding to coffee, use fresh cream. As cream ages, its lactic acid content increases. Acid can curdle cream. The acid in coffee, along with coffee's heat, favor curdling of cream.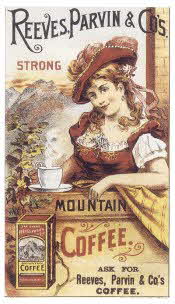 Coffee from: 'Kitchen Directory and American Housewife' (1844)

"Use a tablespoonful ground to a pint of boiling water [less than a quarter of what we would use today]. Boil in tin pot twenty to twenty-five minutes. If boiled longer it will not taste fresh and lively. Let stand four or five minutes to settle, pour off grounds into a coffee pot or urn. Put fish skin or isinglass size of a nine-pence in pot when put on to boil or else the white and shell of half an egg to a couple of quarts of coffee."