See Also: Coffee Cooking Tips; Caffeine;
Coffee History; Coffee Roasting
COFFEE TRIVIA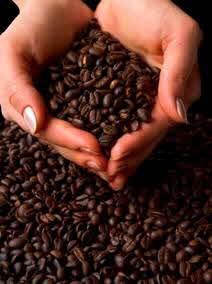 Brazil is the world's largest producer of Coffee. (2010)

The Legend of Coffee's Discovery:
In the Ethiopian highlands, a goatherd named Kaldi noticed his goats did not want to sleep at night after eating berries from a certain tree. He reported this to the abbot of a local monastery, who then made a drink with the berries and discovered that it kept him awake and alert for the long hours of evening prayers. From there the knowledge slowly spread.

In the mid 17th century there were more than 300 coffee houses in London.
It has been estimated that about 1/3 of the tap water used for drinking in North America is used to brew coffee.
Hills Brothers Ground Vacuum Packed Coffee was first introduced in 1900.
The coffee filter was invented in 1908 by a German homemaker, Melitta Benz, when she lined a tin cup with blotter paper to filter the coffee grinds.
In the 16th century, Turkish women could divorce their husbands if the man failed to keep his family's pot filled with coffee.
Sumatran coffee plantation workers track the discerning Asian palm civet, a catlike mongoose, that eats only the best coffee beans. The coffee beans he excretes are washed and becomes Kopi Luwak, the world's most expensive coffee blend at over $500 per pound (2007). The animals gastric juices break down the bitter proteins in the beans, resulting in a sweet, smooth brew. Not necessarily considered as one of the best coffees, but certainly the most exotic.
Starbucks uses 2 percent of the nation's milk in their growing coffee drink business.
If the coffee in a diner is bad, and there is nobody around to taste it, is it really bad?
During World War II the U.S. government used 260 million pounds of instant coffee.
The 10 largest producers of coffee in 2004, listed in the order: Brazil, Vietnam, Columbia, Indonesia, Mexico, India, Guatemala, Ethiopia, Uganda and Honduras.

Coffee from: 'Kitchen Directory and American Housewife' (1844)
"Use a tablespoonful ground to a pint of boiling water [less than a quarter of what we would use today]. Boil in tin pot twenty to twenty-five minutes. If boiled longer it will not taste fresh and lively. Let stand four or five minutes to settle, pour off grounds into a coffee pot or urn. Put fish skin or isinglass size of a nine-pence in pot when put on to boil or else the white and shell of half an egg to a couple of quarts of coffee."
Hawaii is the only state in the U.S. that grows coffee
Approximate Caffeine Content Of Coffee (5 oz. cup)
• Drip method - 110-150 mg
• Percolated - 65-125 mg
• Instant - 40-110 mg

Please feel free to link to any pages of FoodReference.com from your website.
For permission to use any of this content please E-mail: [email protected]
All contents are copyright © 1990 - 2023 James T. Ehler and www.FoodReference.com unless otherwise noted.
All rights reserved. You may copy and use portions of this website for non-commercial, personal use only.
Any other use of these materials without prior written authorization is not very nice and violates the copyright.
Please take the time to request permission.
FOOD TRIVIA and FOOD FACTS
CULINARY SCHOOLS
& COOKING CLASSES
From Amateur & Basic Cooking Classes to Professional Chef Training & Degrees
FoodReference.com (since 1999)
FOOD TRIVIA and FOOD FACTS SECTION