See also: Articles on Clams
CLAMS, CLAM TRIVIA
Clam anatomy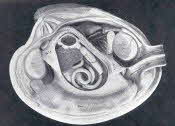 The largest clam ever recorded was found in Okinawa in 1956, it weighed 750 pounds.
Hard shell clams can live to over 40 years if they can avoid humans, fish, starfish, crabs, birds and other predators.
The world's oldest (formally) living animal.
In October 2007 a team of British marine biologists working north of Iceland dredged up what may have been the worlds oldest living animal -- an Ocean Quahog clam from 250 feet deep turned out to be over 405 years old. Unfortunately they realized the clams extreme age only after they had cut through its shell to count its growth rings.
Early French immigrants to Canada made a hearty soup called chaudree from salt pork and fish. (Chaudree derives from the Latin calderia 'caldron'.) When Breton inspired chaudree crossed the Canadian border and moved down the eastern seaboard of the United States "chowder" American style came into being. Maine, ever practical and plain, fostered a simple chowder using pure water, clams, salt pork, and of course, potatoes. The dairy-rich state of Massachusetts chose to make its brand of chowder with milk, while Manhattan and Connecticut versions added tomatoes. Thus started the famous food controversy, still-if ever-to be settled, as to whether chowder should be made with tomatoes.

Please feel free to link to any pages of FoodReference.com from your website.
For permission to use any of this content please E-mail: [email protected]
All contents are copyright © 1990 - 2023 James T. Ehler and www.FoodReference.com unless otherwise noted.
All rights reserved. You may copy and use portions of this website for non-commercial, personal use only.
Any other use of these materials without prior written authorization is not very nice and violates the copyright.
Please take the time to request permission.
FOOD TRIVIA and FOOD FACTS
CULINARY SCHOOLS
& COOKING CLASSES
From Amateur & Basic Cooking Classes to Professional Chef Training & Degrees
FoodReference.com (since 1999)
FOOD TRIVIA and FOOD FACTS SECTION