COCONUTS
Coconut juice or coconut water is the liquid inside a coconut. Coconut milk is produced by steeping grated coconut in hot water then straining; coconut cream is coconut milk cooked down until it thickens, or grated coconut steeped in hot milk instead of water.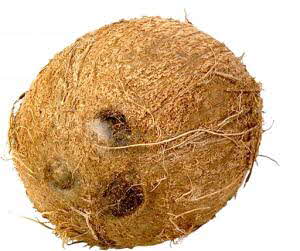 One fresh coconut yields about 2 cups chopped
Shredded coconut: 1 pound equals about 5 - 6 cups

The easiest way to open a coconut is to pierce the 3 'eye' with a nail or an ice pick and drain the liquid. Bake the shell at 350 degrees F. for about 20 minutes. Then put it on a firm surface and tap it with a hammer in several places to crack it.

One cup of unsweetened shredded coconut has 26 grams fat and 283 calories.