SOUTHWEST SALSA RICE BITES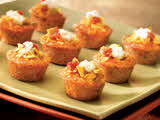 "Rice to the Rescue!" Recipe Contest "Best Whole Grain Brown Rice" Winner- Janet Gilbert
Yield: Makes 48 appetizers (8 servings)

Ingredients
• 3 cups cooked brown rice, cooled
• 1 cup shredded pepper jack cheese
• 4 eggs
• 1 16-ounce jar medium (or hot) thick and chunky-style salsa
• 1/2 cup sour cream
• 1/2 teaspoon salt
• 1/2 teaspoon pepper
• 3/4 cup crushed corn or tortilla chips
• Additional salsa and sour cream for garnish (optional)

Directions
Preheat oven to 350 degrees.

Combine rice and cheese in large bowl; set aside.

In medium bowl, beat eggs until well blended. Stir in salsa, sour cream, salt and pepper. Add salsa mixture to rice and cheese; mix well.

Spray miniature muffin pans with vegetable cooking spray.

Spoon approximately 1 1/2 tablespoons rice mixture into each cup, filling to just below the rim. Sprinkle crushed chips over filling, pressing slightly with back of spoon.

Bake 15 to 20 minutes, or until lightly browned.

Serve warm with additional salsa and sour cream, if desired.

Nutrition Facts
Calories 287
Total Fat 14g
Cholesterol 123mg
Sodium 784mg
Total Carbohydrate 31g
Dietary Fiber 2g
Protein 10g

USA Rice Federation (www.usarice.com)