SCALLOPED POTATOES WITH AMISH COLBY JACK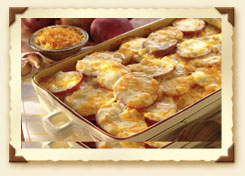 Ingredients
* 2 lbs. medium red potatoes
* 2 Tbsp. butter
* 1/2 cup chopped onion
* 2 cloves garlic, minced
* 3 Tbsp. all-purpose flour
* 2 cups milk
* 1 tsp. dry mustard
* 1/2 tsp. salt
* 1-3/4 cups (7 oz.) Sargento® Limited Edition Shredded Colby-Jack Cheese, divided

Directions
1. Simmer potatoes in water to cover until barely tender, about 15 minutes depending on size of potatoes. Drain; rinse with cold water.

2. Meanwhile, melt butter in a medium saucepan. Add onion; cook 5 minutes, stirring occasionally. Stir in garlic; cook 1 minute longer. Sprinkle flour over onion mixture; cook and stir 1 minute. Add milk, mustard and salt; bring to a boil over high heat, stirring occasionally. Reduce heat; simmer 2 minutes or until thickened, stirring frequently.

3. Peel potatoes if desired. Cut into 1/4-inch thick slices. Arrange half in a lightly greased 9-inch square glass baking dish or 1-1/2 qt. casserole dish. Spread half of milk mixture over potatoes; top with 3/4 cup cheese. Repeat layering with remaining potatoes, milk mixture and 1 cup cheese.
4. Bake in a preheated 375°F oven 25 to 30 minutes or until bubbly
Recipe & photo courtesy of Sargento