QUICK RICH CHEESE BISCUITS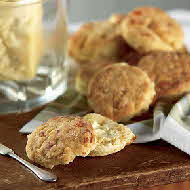 Makes 12 biscuits
Ingredients
• 2 cups buttermilk baking mix
• 1 cup Cabot Sour Cream
• 1 cup finely grated Cabot Sharp Cheddar (4 ounces), plus more for tops
• 7 tablespoons Cabot Salted Butter, melted, divided
• 1/2-1 teaspoon garlic salt (optional)

Directions
1. Preheat oven to 400ºF. Lightly grease 12-cup muffin tin or coat with nonstick cooking spray.

2. In medium bowl, stir together baking mix, sour cream, 1 cup of cheese, 6 tablespoons of melted butter and garlic salt, if using, until dry ingredients are moistened.

3. Divide batter evenly among muffin cups. Gently brush tops with remaining butter and sprinkle lightly with additional cheese.

4. Bake for 9 to 11 minutes, or until biscuits are lightly browned.

Nutrition Analysis
Calories 293 , Total Fat 28g , Saturated Fat 17g , Sodium 557mg , Carbohydrates 7g , Dietary Fiber 0g , Protein 10g , Calcium 140mg

Recipe & photo courtesy of Cabot Creamery Cooperative
www.cabotcheese.com