QUICHE LINGUINE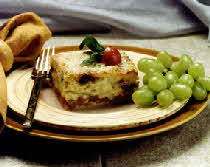 Servings: 9
Ingredients:
• 1/2 pound Italian sausage
• 1 large tomato, minced
• 1 tablespoon butter
• 2 tablespoons sun-dried tomatoes packed in oil, diced
• 1 tablespoon fresh basil, chopped
• 3 ounces linguine or spinach fettucine
• 1 sheet puff pastry
• 4 large eggs, beaten
• 5 cups half and half
• 1/2 teaspoon salt
• 1/2 teaspoon white pepper
• 1/4 teaspoon ground nutmeg
• 3/4 cup Swiss cheese, shredded
• 1/4 cup Parmesan cheese, grated or shredded
• Butcher wrapping paper to cover bottom of 9" X 9" baking pan

Directions:
Pre-heat oven to 400°F.

Cook Italian sausage on stovetop or in the microwave (in a plastic colander over a drip pan). Crumble meat into small pieces. Sauté tomato in butter and simmer until most of liquid is gone. Combine sausage, tomato, sun-dried tomato and basil.

Cook pasta according to package directions.

Spray a 9 x 9-inch baking dish with non-stick spray. Line it with butcher wrapping paper, shiny side up, spraying again. Spread the puff pastry in the bottom of the pan.

Beat eggs; add half and half cream in a large bowl and mix. Add seasonings.

Spread sausage mixture over puff pastry. Top with well-drained pasta and pour the egg and milk mixture over top. Sprinkle cheeses on top and tap with a spatula. Bake for 20 to 25 minutes until golden brown. Reduce temperature to 275°F; cook an additional 30 to 35 minutes. Check center of quiche for firmness by shaking the pan.

Let cool 15 minutes and loosen edges of pan with a knife. Flip the pan on to a cookie sheet. Pull off paper and flip the quiche onto an attractive serving plate. Garnish with cherry tomatoes or basil sprigs.
Nutrition:
One serving provides approximately: 485 calories, 22 g protein, 18 g carbohydrates, 1 g fiber, 37 g fat (19 g saturated), 190 mg cholesterol, 45 mcg folate, 1 mg iron, 741 mg sodium.
Source: Submitted by Wheat Foods Council Adapted from a Recipe and Preparation Presented by Marwan Kassem, Executive Chef