BROCCOLI QUICHE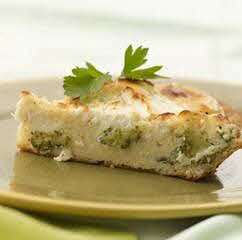 INGREDIENTS
· 2 tablespoons unsalted butter
· 1 onion, minced
· 1 teaspoon minced garlic
· 2 cups chopped fresh broccoli florets
· 1, (9-inch) unbaked piecrust
· 1½ cups shredded mozzarella
· 4 large eggs, well beaten
· 1½ cups milk
· 1 teaspoon salt
· ½ teaspoon black pepper
· 1 tablespoon unsalted butter, melted

DIRECTIONS
· Preheat oven to 350°F.

· Melt butter in a saucepan and add onions, garlic and broccoli.

· Cook slowly, stirring occasionally, until the vegetables are soft.

· Spoon vegetables into crust and sprinkle with cheese.

· Whisk together eggs and milk, add salt and pepper and stir in melted butter.

· Pour egg-milk mixture over vegetable-cheese mixture.

· Bake for 30 minutes, or until firm in center.

* Recipe courtesy of Maria Zoitas, creator of 'Maria's Homemade' line of prepared food sold exclusively at Westside Market NYC www.wmarketnyc.com/