BROCCOLI SWISS QUICHE WITH WHOLE WHEAT PIE CRUST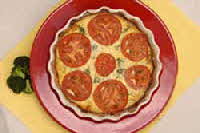 Servings: 6 servings
Ingredients:
• 3 eggs
• 1 cup broccoli, cooked and chopped
• 1 1/2 cups low-fat Swiss cheese, shredded
• 8 ounces evaporated skim milk
• 2 cloves garlic, minced
• 1 small onion, chopped
• 1 teaspoon salt
• 1/2 teaspoon pepper
• 1 medium tomato, sliced
• 1/4 cup Parmesan cheese

Whole Wheat Pastry Crust
• 1 cup whole wheat pastry flour
• 1 teaspoon sugar
• ¾ teaspoon salt
• 5 tablespoons vegetable oil
• 2 tablespoons milk

Directions
Preheat oven to 400°F.

Into 8 or 9-inch quiche plate or pie plate, stir together flour, sugar and salt. With fork, whip together oil and milk; pour over flour mixture. Mix with fork till all flour is dampened. Press dough evenly against bottom and sides of plate. Crimp edges.

Line the unpricked pastry shell with a double thickness of foil. Bake in oven for 8 minutes. Remove foil. Bake for 4 to 5 minutes more or till pastry is set and dry. Remove from oven. Reduce oven temperature to 350°F; add quiche filling (see below). If necessary, cover edge of crust with foil to prevent over browning.


DIRECTIONS FOR QUICHE FILLING:
Whip eggs with wire whisk; add broccoli, shredded Swiss cheese, evaporated milk, garlic, onion, salt and pepper; stir until blended.

Pour into prepared pastry crust. Slice tomato and place on top of quiche mixture; sprinkle with Parmesan Cheese.

Bake for 35 to 45 minutes or until quiche tests done in center. Protect pastry crust with foil at end of cooking time to prevent over browning. Cool on wire rack for 5 to 10 minutes before cutting.
Nutrition analysis:
One serving provides approximately: 309 calories, 20 g protein, 22 g carbohydrates, 3 g fiber, 16 g fat (5 g saturated), 122 mg cholesterol, 39 mcg folate, 1 mg iron and 986 mg sodium.

Recipe courtesy of the Wheat Foods Council