CRUSTLESS SPINACH QUICHE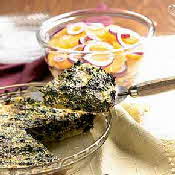 Makes 4 servings
Ingredients
• 2 teaspoons canola oil
• 1 medium yellow onion, finely chopped
• 1 (10-ounce) package frozen chopped spinach, thawed and drained
• 1 1/2 cups grated Cabot 50% Reduced Fat Cheddar (about 6 ounces)
• 6 large egg whites
• 1 large egg
• 1/3 cup Cabot No Fat Cottage Cheese
• 1/4 teaspoon ground red pepper (cayenne)
• 1/8 teaspoon salt
• 1/8 teaspoon grated nutmeg

Directions
1. Preheat oven to 375ºF. Coat 9-inch pie plate, preferably nonstick, with cooking spray; set aside.

2. In nonstick skillet over medium-high heat, heat oil. Add onion and cook, stirring, for 5 minutes, or until translucent. Add spinach and stir until moisture has evaporated, about 3 minutes longer.

3. Sprinkle cheese evenly in prepared pie plate. Top with spinach mixture.

4. In medium bowl, whisk together egg whites, egg, cottage cheese, red pepper, salt and nutmeg. Pour egg mixture evenly over spinach.

5. Bake for 30 to 40 minutes, or until set. Let stand for 5 minutes, then cut into wedges and serve.

Nutrition Analysis
Calories 211 , Total Fat 11g , Saturated Fat 5g , Sodium 620mg , Carbohydrates 8g , Dietary Fiber 2g , Protein 24g , Calcium 409mg

Recipe courtesy of Cabot Creamery Cooperative
www.cabotcheese.com