MARIA'S BAKED CLAMS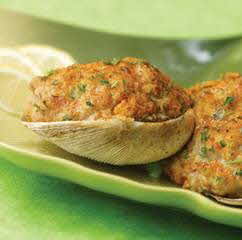 INGREDIENTS
· 4 tablespoon unsalted butter, melted
· ¼ cup finely chopped onion
· 1 garlic clove, crushed
· 1 egg, slightly beaten
· 1/4 cup seasoned breadcrumbs
· 12 cherrystone clams, chopped, do not discard shells
· 1/8 teaspoon dried oregano
· 1/3 cup seasoned dry bread crumbs

DIRECTIONS
• Preheat oven to 350°F.

• Place 2 tablespoons melted butter in a skillet with onion and garlic.

• Over medium heat, sauté for 3 to 4 minutes, until soft.

• Remove skillet from heat and add egg, the 1/4 cup bread crumbs, chopped clams and oregano and stir to combine.

• Divide the mixture among the reserved shells and place shells on a baking pan.

• In a small bowl combine the remaining 2 tablespoons butter and 1/3 cup bread crumbs and the 2 tablespoons melted butter.

• Sprinkle buttered bread crumbs on top of clams.

• Bake clams for 25 minutes, or until golden brown on top.

• Sprinkle with chopped parsley once baked.

* Recipe courtesy of Maria Zoitas, creator of 'Maria's Homemade' line of prepared food sold exclusively at Westside Market NYC