FROSTED CAULIFLOWER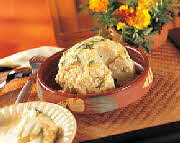 Makes 6 servings

Ingredients
• 1 medium head cauliflower, trimmed
• 3/4 cup grated Cabot 50% Reduce Fat Jalapeno Cheddar
• 1/2 cup mayonnaise
• 2 teaspoons prepared mustard

Directions
1. Preheat oven to 375ºF.

2. Steam cauliflower for 15 minutes, or until tender. Transfer to 8- by 8-inch or similar shallow baking dish.

3. In small bowl, stir together remaining ingredients; spread mixture over cauliflower. Bake for 10 minutes, or until lightly colored.
Nutrition Analysis
Calories 209 , Total Fat 19g , Saturated Fat 2g , Sodium 254mg , Carbohydrates 7g , Dietary Fiber 2g , Protein 6g , Calcium 121mg

Recipe & photo from Cabot Creamery Cooperative
www.cabotcheese.com
Recipe submitted by Kris Moore of Rancho Mirage, CA.