OKRA TRIVIA and FACTS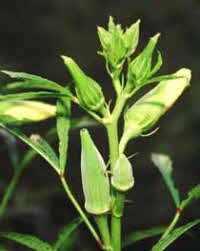 Okra is a many seeded, rough, green pod shaped vegetable. It is used to thicken soups and stews, and as a cooked vegetable.

Okra is native to tropical areas of Africa, and was cultivated in Egypt in the 12th century.

Okra is a species of the Hibiscus genus (Hibiscus esculentus) and a member of the mallow family (Malvaceae). The Mallow family of plants (Malvaceae) includes hollyhock, the cotton plant, okra, marsh mallow and the Rose of Sharon. The roots of the marsh mallow (Althaea officinalis) were the source for the original marshmallow candy, made by boiling the soft inner pulp from the roots with sugar until very thick.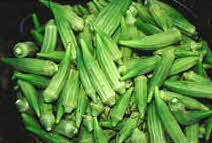 Lady's Fingers is another name for okra. This name only dates back to the early 20th century, and originally applied to a small variety of okra. The kidney vetch, with small thin flowers said to resemble a small hand originally held claim to the name 'lady's fingers' (17th century), but in the late 19th century the name was applied to varieties of potatoes, apples, bananas and grapes. Most have gone by the wayside, but the 'lady's fingers' name is still associated with okra, and of course, ladyfingers as applied to a small finger shaped sponge cake.

FREE Magazines
and other Publications
An extensive selection of free magazines and other publications
FOOD TRIVIA and FOOD FACTS
Please feel free to link to any pages of FoodReference.com from your website.
For permission to use any of this content please E-mail: [email protected]
All contents are copyright © 1990 - 2023 James T. Ehler and www.FoodReference.com unless otherwise noted.
All rights reserved. You may copy and use portions of this website for non-commercial, personal use only.
Any other use of these materials without prior written authorization is not very nice and violates the copyright.
Please take the time to request permission.


CULINARY SCHOOLS
& COOKING CLASSES
From Amateur & Basic Cooking Classes to Professional Chef Training & Degrees
FoodReference.com (since 1999)
FOOD TRIVIA and FOOD FACTS SECTION