See also: Article on Okra; Facts & Trivia
OKRA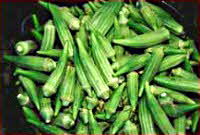 Okra should be stored at 35 degrees F.


1 pound of okra = 1 quart.

When buying okra, look for tender pods under 4 1/2 inches long, with tips that will bend under slight pressure. They should be bright green and free from blemishes.

AVOID pods with tips which are stiff and resist bending or with very hard bodies.