See Also: Article - Nutmeg
NUTMEG (Spice)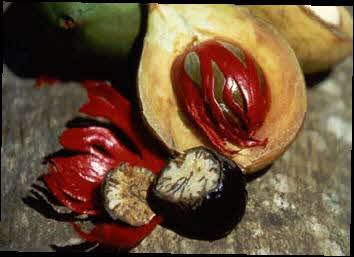 Nutmeg: 1 pound = 4 cups
1 ounce = 4 Tablespoons

Piney, terpeney and citrus-like aromatics combine with sweet and bitter tastes to provide Nutmeg with its distinctive flavor.

Nutmeg (Myristica fragrans), native to the Moluccas (the Spice Islands of Indonesia) is unique among spice plants, producing two distinct spices. The seed is dried, shelled and sold either whole or ground as the spice Nutmeg. The outer fleshy network is also dried and ground producing the spice know as Mace.

Nutmeg is used in cakes, confections, eggs, cheese, meat dishes, sausages, sauces, vegetables, and in eggnog and several cocktails and punches.