ORANGES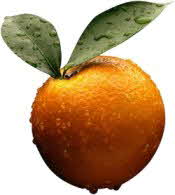 California oranges have a relatively thick skin compared to Florida oranges. This thicker skin helps protect them from the dry climate in the West.

Oranges do not ripen after they are picked, but lemons do.

Store oranges at 35 degrees F. at high humidity (85%+); they will keep almost 2 months.

One pound of oranges yields almost 1 cup of juice.
1 orange = 1/2 cup juice
1 orange yields about 1 tablespoon of grated zest.

Oranges vary 2 - 3 per pound.

Orange juice can be used over fresh fruits to prevent browning.

Carry an orange with you wherever you go, they come in their own covered container so you can just peel and eat orange segments whenever the snack craze occurs.

Buy a zesting tool or grate orange rind to use in recipes, rice, or stir fry for added flavor.
Cut oranges into wedges and eat them for a light snack or use them as edible garnishes.

A couple of tablespoons of orange juice concentrate can be added to a fruit cup for a great flavorful sauce.

Combine the juice with other fruits and yogurt in the blender for a smoothie any time of day.

Drink a cool glass of orange juice for breakfast or serve orange halves instead of grapefruit for a change.