See also: Article on Oranges; Orange Quotes
ORANGE TRIVIA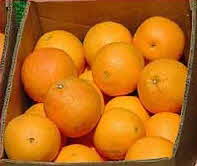 There are 3,236 people in the U.S. listed on whitepages.com with the last name 'Orange'
(Mark Morton, 'Gastronomica', Fall 2010)
The official state Flower of Florida is the Orange Blossom (1909) and the official state Fruit is the Orange (2005).

Florida produces about 70% of the total U.S. crop, and 90% of its production goes to make juice.
CDC.gov - 5 a Day
The orange is technically a hesperidum, a type of berry.

The orange was the first fresh fruit to bear a trademark. In 1919 the California Fruit Growers Exchange burned 'Sunkist' on their oranges.

In Queen Victoria's day, oranges were given as Christmas gifts in England.

Almost 40% of the orange crop in the U.S. goes to make frozen concentrate.
Brazil produces more oranges than any other country.

A popular demonstration at the 1922 Los Angeles County Fair was how to make toothpaste from orange by-products.

Oranges were introduced to Hawaii in 1792.

The most valuable fruit crops in the United States are in order, grapes, apples, oranges and strawberries (2000).