ONION TRIVIA and FACTS

World onion production is estimated at approximately 105 billion pounds each year. The average annual onion consumption calculates to approximately 13.67 pounds of onions per person across the world. Libya has the highest consumption of onions with an astounding average per capita consumption of 66.8 pounds. (National Onion Association)
Yellow onions make up more than 75% of the worlds production of onions.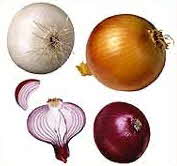 Onions represent the third largest fresh vegetable industry in the United States. The U.S. produces well over 2 million metric tons of onions annually.

The U.S. per capita consumption of onions is around 18.7 pounds per year. This translates to approximately 370 semi-truck loads of onions used in the United States each day. (National Onion Association)
Pace Foods (picante sauce & salsas) uses about 21 million pounds of fresh onions every year.
The onion is believed to have originated in Asia, though it is likely that onions may have been growing wild on every continent. Dating back to 3500 BC, onions were one of the few foods that did not spoil during the winter months. Our ancestors must have recognized the vegetable's durability and began growing onions for food.
The onion became more than just food after arriving in Egypt. The ancient Egyptians worshipped the onion, believing that its spherical shape and concentric rings symbolized eternity. Of all the vegetables that had their images created from precious metals by Egyptian artists, only the onion was made out of gold.
Today, onions are used in a variety of dishes and rank sixth among the world's leading vegetable crops. CDC.gov

Maui Onions are golden yellow, sweet, juicy onions grown on the Island of Maui, Hawaii. They are very sweet, have a high water content, and usually weigh about 1/2 to 3/4 pound. Maui onions are usually shaped like a flattened golbe. They are the earliest sweet onions on the market, and are generally available from April to June. Excellent for onion rings.
According to an old English Rhyme, the thickness of an onion skin can help predict the severity of the winter. Thin skins mean a mild winter is coming while thick skins indicate a rough winter ahead.

If you eat onions you can get rid of onion breath by eating parsley.

During the American Civil War, General Ulysses S. Grant sent a telegram to the War Department, "I will not move my army without onions." The next day he got them.
In Blue Hill, Nebraska, no female wearing a "hat that would scare a timid person" can be seen eating onions in public.
• The Walla Walla Sweet Onion was designated as the Official Vegetable of Washington in 2007.
• The Spanish Sweet Onion was designated as the Official Vegetable of Utah in 2002.
• The Official State Vegetable of Georgia is the Vidalia onion.
• The official State Vegetable of Texas is the Texas Sweet Onion.
According to the Guinness Book of World Records, the largest onion ever grown weighed 10 lbs 14 oz and was grown by V. Throup of Silsden, England.

FREE Magazines
and other Publications
An extensive selection of free magazines and other publications
FOOD TRIVIA and FOOD FACTS
Please feel free to link to any pages of FoodReference.com from your website.
For permission to use any of this content please E-mail: [email protected]
All contents are copyright © 1990 - 2023 James T. Ehler and www.FoodReference.com unless otherwise noted.
All rights reserved. You may copy and use portions of this website for non-commercial, personal use only.
Any other use of these materials without prior written authorization is not very nice and violates the copyright.
Please take the time to request permission.


CULINARY SCHOOLS
& COOKING CLASSES
From Amateur & Basic Cooking Classes to Professional Chef Training & Degrees
FoodReference.com (since 1999)
FOOD TRIVIA and FOOD FACTS SECTION