VIDALIA ONION TRIVIA
The official state vegetable of Georgia is the Vidalia® onion. Georgia's sandy soil and mild growing climate are credited with their sweet taste.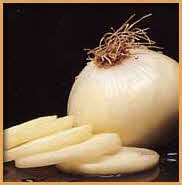 Sweet Vidalias were discovered 75 years ago by surprise when a Georgia farmer found his onions were not hot!

Vidalias, by law, can only be grown in 20 Georgia counties.

Vidalias generally have half the sulfides—the stuff that produces both tears and indigestion!—of other onions.

The Piggly Wiggly grocery store chain helped Vidalias first become a star. Since then, they have gone on to earn the prestigious title of "state vegetable."
For additional information visit the Vidalia Onion Committee Website

FOOD TRIVIA and FOOD FACTS
Please feel free to link to any pages of FoodReference.com from your website.
For permission to use any of this content please E-mail: [email protected]
All contents are copyright © 1990 - 2022 James T. Ehler and www.FoodReference.com unless otherwise noted.
All rights reserved. You may copy and use portions of this website for non-commercial, personal use only.
Any other use of these materials without prior written authorization is not very nice and violates the copyright.
Please take the time to request permission.


FoodReference.com (since 1999)
FOOD TRIVIA and FOOD FACTS SECTION