Click photo for larger image
VELVET APPLE, MABOLO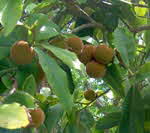 The Velvet Apple or Mabolo (Diospyros blancoi, Diospyros discolor) is a medium size evergreen tree native to the Philippines. It produces beautiful velvety reddish orange fruits about the size and shape of an apple and covered with a velvet-like skin.

The fruit is has a pleasant mildly sweet taste, similar to a peach, but has an odor that is similar to a mild to strong cheese, that some people find unpleasant.
Photo by Chef James, taken at Fruit & Spice Park, Homestead, FL

FOOD TRIVIA and FOOD FACTS
Please feel free to link to any pages of FoodReference.com from your website.
For permission to use any of this content please E-mail: [email protected]
All contents are copyright © 1990 - 2022 James T. Ehler and www.FoodReference.com unless otherwise noted.
All rights reserved. You may copy and use portions of this website for non-commercial, personal use only.
Any other use of these materials without prior written authorization is not very nice and violates the copyright.
Please take the time to request permission.


FoodReference.com (since 1999)
FOOD TRIVIA and FOOD FACTS SECTION