See also: Salsa Recipes and Relish Recipes
SALSA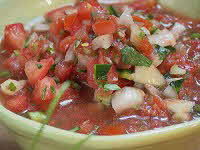 Tortilla Chips and Salsa was designated as the Official State Snack of Texas in 2003.

On the 50th anniversary of Pace Foods in 1997, May was declared National Salsa Month in recognition of the popularity and unique heritage of salsa.

Pace Foods uses 22 million pounds of fresh jalapeno peppers every year, more than anyone else in the country.

Sales of Salsa overtook Ketchup sales in 1991 (in terms of dollar value).

Tomatoes and Jalapenos are actually fruits, not vegetables.

Relish or Salsa:
The only real difference is that the word 'relish' is of French origin, and the word 'salsa' is of Spanish origin. They are both condiments intended to add flavor to other foods, and both can be either raw or cooked.