See also: Article on Saffron; Saffron Field Report, Spain
SAFFRON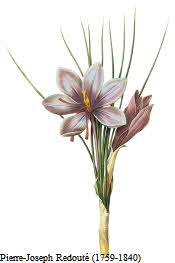 Saffron (Crocus sativus)
Saffron, the most expensive spice in the world, is native to the Mediterranean area and most imported saffron comes from Spain. The ancient Assyrians used saffron for medicinal purposes. The Greeks and Romans used it to perfume their luxurious baths. The bright orange-yellow color also made saffron useful as a dye.

Each saffron crocus flower has 3 stigmas, it takes about 80,000 flowers (240,000) stigmas to make a pound of saffron. It takes an experienced picker about 12 days to pick this many. By the time saffron gets to retail stores, its cost is $600 to $2000 per pound.

In 1444 any merchant caught selling adulterated saffron in Bavaria was burned alive.