SAFFLOWER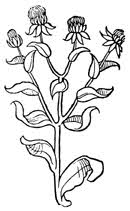 Safflower is a thistlelike Eurasian plant (Carthamus tinctorius) of the daisy family, having heads of red or orange flowers that are the source of a red dye.

The seeds, which look like small pine nuts, contain an oil used in foods (especially margarines), cosmetics, paints, and medicine. The flower petals are sometimes used as a substitute for saffron ('bastard saffron').

Safflower has been found in Egyptian tombs dating to about 3500 B.C.