FIGS - short history & facts
See also: Figs, Buying & Using; Figs, Nutritional Powerhouse;
Fig Trivia; Kitchen Tips Quotes
This ancient fruit belongs to the genus ficus of the mulberry family, and is one of the earliest fruits cultivated.
Its origins can be traced back to the region between Asia Minor and India where it is still grown in substantial quantities. Italy, France, Portugal, Greece and Spain are large European producers. Attica (Greece) grown figs are famous all over the world for their rich and succulent taste. Turkey is well known for its brown figs. Algeria is the largest producer in Africa.
In the USA, southern California is a large producer and shipper all over North America.

There are several varieties; Symrna, white, San Pedro, brown, Common, Dotatto and Praga just to name a few.

Rich in calcium, potassium, phosphorus, and iron figs need a warm to hot growing season.

The small, soft, pear-shaped fruit is extremely perishable when ripe. Figs shipped, even airfreight from California or Greece to major Atlantic Coast cities like New York, and Washington D C, or Chicago, Toronto, Montreal inland lack flavour intensity.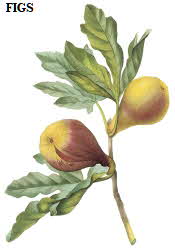 The innumerable globes in figs are held together with glucose. Most figs imported to North America are dried, and originate either in Greece or Turkey.

Dried figs are chopped and used in cookies or other pastries. Fresh ripe figs are serves in Italy with prosciutto or San Daniele ham or eaten out-of-hand.

Dried figs can be stewed or made to compote using port wine for an additional taste dimension.

Article contributed by Hrayr Berberoglu, a Professor Emeritus of Hospitality and Tourism Management specializing in Food and Beverage. Books by H. Berberoglu