See also: Apricot History; Apricot Trivia

APRICOTS: Selecting and Using
In Latin, apricot means "precious," a label earned because it ripens earlier than other summer fruits. A relative of the peach, the apricot is smaller and has a smooth, oval pit that falls out easily when the fruit is halved.

Apricots originally came from China. This golden fruit has been around for more than 4,000 years. Apricots progressively made their way through the Persian Empire to the Mediterranean where they were fondly adopted. Spanish explorers introduced the apricot to the New World, and they were planted in the gardens of Spanish missions all over California. The first recorded major production of apricots in America was in 1792 south of San Francisco.
Apricots Today
In the United States, 95% of apricots grow in the San Joaquin Valley and other parts of northern California. More than 400 growers produce many varieties of apricots Growers continually experiment with new varieties that deliver sweet flavor and ship or process well.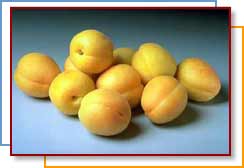 Selection and Storage
Look for plump apricots with as much golden orange color as possible. Stay clear of fruit that is pale yellow, greenish-yellow, very firm, shriveled, or bruised. Apricots that are soft-ripe have the best flavor, but they must be eaten immediately.

Apricots will ripen at room temperature. To help them ripen, place them in a paper bag with an apple. When they yield to gentle pressure, they are ready to eat. Refrigerate ripe apricots, unwashed, in a paper or plastic bag up to 2 days. Wash them before eating. They are a perfect fast food anytime. To cut fruit, slice around its seam, twist it in half, and lift out the pit.
Apricots are available throughout the year from different regions:
Mid-February through mid-March from Chile
Mid-June through mid-July from California
Mid-July through mid-August from Washington
Dried Apricots
Eating dried apricots is a great way to get your 5 to 9 A Day. The nutrients (e.g., beta-carotene and niacin) are more concentrated in dried than in fresh apricots. Dried apricots also have a higher sugar content, which makes them more likely to stick on your teeth. Your dentist will remind you to brush or rinse your teeth after eating any dried fruit or sticky foods. If you're allergic or sensitive to sulfites, remember to look on the label of the package to see if the apricots were treated with sulfur dioxide for color preservation. Look in health-food stores for apricots that were not treated with sulfites. They'll be brown, not orange.

Preparation
Apricots are great to eat raw, but they are also terrific cooked. These are some common cooking methods:

Broiling or grilling: Try threading the apricots (whole or halved) on skewers. Brush them with a little honey, and grill until semi-soft. Broiling apricots is easy. Simply halve the apricots, place them on a cookie sheet skin cut side up, and heat for 7 to 10 minutes.

Poaching: It's a great method for making a delicious sauce. Simply place the apricots with their skins intact into simmering water or fruit juice, and cook until tender. Adding spices such as cinnamon or cloves enhances the apricot taste. When the apricots are tender, the poaching liquid can be used as a sauce. Poaching takes about 6 to 8 minutes.
No saturated fat, sodium, or cholesterol
Good source of potassium.

Make Apricots Part of Your 5 A Day Plan
It's easy to include apricots in your meals. Try these great short cuts to getting your 5 to 9 A Day
• Slice them up for fruit salads.
• Purée apricots for sauces. The sauces are especially good on pancakes, desserts, or meat.
• Use apricots whenever a recipe calls for peaches or nectarines.
• Add apricots to your favorite baked desserts.
• Pack them for your lunch, or have them as a snack
• Add apricots to low fat cottage cheese and your fruit smoothies.
• For a great tasting snack when hiking, add dried apricots to your trail mix.