KUMQUAT
See also: Kumquat Facts & Trivia
Kumquats are any of several shrubs or trees in the citrus family but not the citrus genus. In 1915 kumquats were moved to a genus of their own, Fortunella, because of the simpler structure of their fruit (named for Robert Fortune who introduced them to Europe in 1846 or 1847). The name kumquat (cumquat) is from the Cantonese kin kü, 'gold orange'. The most common variety is the oval 'Nagami' (Fortunella margarita). The round 'Marumi' (F. japonica) is from Japan and the oval 'Meiwa' (F. crassifolia) is a sweet variety grown in China.
These tiny golden yellow, round or oval fruits are the smallest citrus fruit in the world, averaging only about 1 inch or so in diameter, and grow in grape-like clusters. The kumquat's thin skin is sweet but the somewhat dry flesh is puckery-sour, with small edible seeds. The flavor is similar to an orange with a hint of tangerine. They are normally eaten whole, skin and all.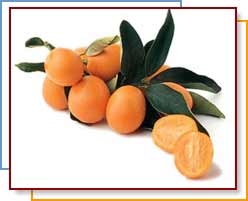 The Kumquat is thought to have originated in central China and has been cultivated there since ancient times. Two types of kumquats are described in the oldest known book about oranges, 'Chü lu' (1178 A.D.) by Han Yen-Chih. Today they are cultivated in China and Japan and throughout the subtropical citrus belt, including California. The kumquat is more resistant to cold than other citrus trees, and is grown both for its fruit and as an ornamental.
Selection, Storage, and Preparation
Kumquats can appear in markets from October (at the earliest) through June, and during some unpredictable off-season times as well. Considered a winter fruit, their golden color is a welcome sight. Select fruits that are firm, not soft. Because of their skin, they tend to spoil more easily than thicker skinned fruits such as oranges. Kumquats will last a few days at room temperature or for up to two weeks in the refrigerator. The entire kumquat is consumed in a bite or two. Because of their size and color, they are also great as drink garnishes or as an addition to salads. They are also used in marmalades, preserved whole, in liqueurs, in poultry stuffings and cakes.
Wash kumquats before serving.

Make kumquats part of your 5 to 9 A Day Plan!
--Eat and serve as you would grapes.
--Substitute for oranges in duck and other orange-based dishes.
--Use as a drink or plate garnish to be eaten.
--Add to salads for a colorful, tasty addition.
NUTRITION
Serving Size: 3 pieces (57g)
Amount Per Serving % Daily Value
Calories 40
Calories from Fat 5
Total Fat 0g 0%
Saturated Fat 0g 0%
Cholesterol 0mg 0%
Sodium 5mg 0%
Total Carbohydrate 9g 3%
Dietary Fiber 4g 16%
Sugars 5g
Protein 1g
Vitamin A 4%
Vitamin C 40%
Calcium 4%
Iron 2%
* Percent Daily Values are based on a 2,000 calorie diet.