FEIJOA, Pineapple Guava
The feijoa (Feijoa sellowiana, now Acca sellowiana) is a small (1-2") egg-shaped (oval) fruit with a thin lime-green to khaki colored skin. The flesh inside is cream-colored and encases a jelly-like center with tiny edible seeds. The texture is gritty, close to that of a pear. The flesh tastes like a combination of several other fruits, usually described as pineapple, guava, and strawberry. Some people report a taste similar to that of a quince or lemon. Feijoa is native to South America, but is now commercially grown in New Zealand and California. New Zealand is the world's leading producer of feijoas.
Although commonly called a pineapple guava, it is not a true guava. Both feijoa and guava are members of the Myrtle family, which includes allspice, eucalyptus and clove. The scientific name 'sellowiana' is in honor of Freidrich Sellow, the 19th century German botanist who discovered the plant in southern Brazil. The common name 'feijoa' honors Brazilian botanist Don da Silva Feijo.

Selection
Select fruit that is fragrant and gives slightly to gentle pressure. Ripe feijoas are delicate, so take caution not to bruise the fruit. Imported feijoas are available from late March to June; while domestic ones reach the market in the fall. Feijoas are gaining in popularity and are becoming easier to find in supermarkets. They are already easy to find in specialty markets and can often be ordered out-of-season through several online merchants.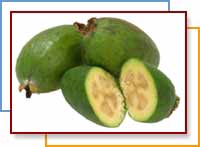 Storage
Ripe feijoas may be refrigerated, but they don't have to be. Ripen feijoas in a paper bag at room temperature; to ripen quicker add an apple to the bag. Ripe feijoas normally last about 3 to 5 days. Feijoas may be frozen, but only if peeled and cooked into a puree.

Preparation
Feijoas are most often eaten raw. The fruit is ripe when it is slightly soft and the jellied inner section is clear. The fruit is unripe when the jelly is white and is spoiled when the jelly is brown. Unfortunately, this test of ripeness may only be determined once the fruit is opened. Peel the fruit before preparing, as the skin is frequently bitter.

This strong flavored fruit is a great addition to fruit salads. Pureed, it can be used to make jellies and jams, flavoring for ice cream and smoothies, or sauce for desserts or roasted meats.