FIG -- POWER HOUSE OF NUTRITION
Zarina Patel, Email: zaripatel@hotmail.com
Karachi, Pakistan
See also: Fig Facts; Figs, Buying & Using
In the history of foods the fig is one of the earliest fruits to be desiccated and stored by men. Sumerian civilization, Phoenicians, Ancient Greeks and old Chinese promoted fig culture and gave it sky-scraping fame. In China it has been grown since one thousand years back. Ancient Greeks offered figs to each other as precious gifts. Greek players used it to increase their potency and muscles.

Antediluvian king of Pontus Mithridates had ordered his citizens to use figs everyday to keep them away from diseases. It is said that in ancient Rome and Greek, farmers and slaves were given figs on a daily basis to increase their working capabilities.

The fruit have both nutritional and medicinal values therefore it is regarded as functional food. It has property of keeping people physically and mentally strong. Dry fig has nutrition values more than its fresh variety. Protein, carbohydrates, calcium, thiamin, riboflavin, potassium, iron and high amount of fibers are its main constituents. It contains second highest amount of calcium after Oranges. The major section has sugar which forms 51 to 70 %of the whole fruit.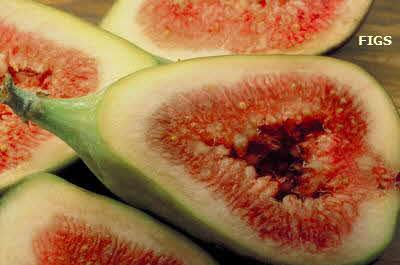 Beauticians recommend it for beautification and personal care. Eating figs prevent cracking of lips and premature wrinkles. It puts off bad breath. The milky juice of green fig has necrotic property and can be applied to soften the thickening of skin of toe (Corn). Its sodium-free, cholesterol free, fat free and high fiber properties make it ideal food for dieters. For those who are planning to quit smoking, figs can be an alternative. For long time it has been used to treat skin pigmentation, warts, mole and blisters. It is used as a medical dressing which applied on infectious skin to get rid of abscess. Its sugary pulp is ideal for making sweetener for dieters.

Softening and soothing effects of figs provide relief from respiratory tract inflammation, cough, colds and aching throats. In folk medicine it is used as a demulcent for the irritation of soft skin tissues. Due to anti-bacterial properties it can inhibit bacterial growth.

For chefs and bakery product makers fig is a favorite ingredient for making of deserts, jams, jelly, cakes, pies etc. Adding figs to food products enhance both their taste and dietetic values. Presence of a substance known as humectants makes figs useful to keep the bakery products fresh and moist for long time.

In south East Asia, Anjeer and Guava blended, together to make a healthy and refreshing fruit drink. In Mediterranean countries its extract is added in alcohol and tobacco. Dry roasted figs are pressed and grounded to use as alternative to coffee. In America fig puree is part of many sweet recipes. Combination of figs and milk ensure sufficient supply of proteins, calcium and iron.

In western countries green figs are available in can and tin and added to yogurt and cream to make deserts.

Figs are rich source of soluble and insoluble dietary fibers. Soluble fibers help to lower blood cholesterol while insoluble fibers prevent breast and colon cancer and heart attack.
The rip fruit and its leaves are highly mucilaginous, sticky and contain amino acids. This property makes the plant useful for the treatment of many ailments. Ancient Roman writer Pliny wrote that due to its recuperative and invigorating effects, figs can heighten the process of revival from long illness.

The milky juice of fig plant is capable of causing allergy to many people but the juice is also remedy to stops or controls the effects of poison of malicious animals.

The tiny seeds stick beneath the skin of the dry fruit contains poly saturated fatty acids which are essential for nutrition. The seeds stimulate the movement of intestine and smooth the process of digestion. The hard skin of figs can be indigestible therefore it is better to soak it in water so that skin becomes soft and easy to digest. No cholesterol property makes figs beneficial for weight conscious people.

Different parts of fig plants are processed to make medicines. Dry figs and flowers of genus Senna combined to make a medicine to stimulate evacuation of the Bowles. Due to the presence of chemical compounds such as Flavones, rutin, quercitin it employs to make Medicines for the treatment of cardiovascular diseases. In alternative medicine eating of figs ensure treatment of headache, arthritis, stomach disorders. Figs have an enzyme that catalysis the splitting of proteins into smaller peptide fractions and amino acids by a process known as proteolysis thus help in digestion.

In Latin America extracts of figs is used as folk medicine to cure sore throat and puffy gums. Fig extract also applied to treat tumors, lumps and abnormal growth of body tissues.

Nutritionists strongly advised that care should be taken before buying dried Anjeer as they are easily contaminated by a type of toxin fungus which may cause cancer.

Article by:
Zarina Patel - M4, KDA Overseas Bungalows, Block 16, Gulistan-e- johar, Karachi, Pakistan