CRANBERRIES
See also: Cranberries 2; Leaving Turkey Aside; Cranberry Trivia; Tips; Quotes

Cranberries grow on vines in boggy areas. Cranberries were first cultivated in Massachusetts around 1815 and are only one of three major native North American fruits. Some cranberry beds have been around for over 100 years.

Most of the U.S. cranberry crop is grown in only five states: Massachusetts, Wisconsin, New Jersey, Oregon, and Washington. Each year, more than 110,000 metric tons of cranberries are produced in the United States.
Most cranberries are harvested by machine, but machines damage the berry. Damaged berries are not suitable to sell fresh but work well for juices, jellies, and other products. More than one-third of the cranberries grown in the United States are made into juice. Fresh whole berries may be purchased, but are often expensive because they have to be hand-picked to avoid the damage caused by machine-picking.

Native Americans used cranberries for both their medicinal and natural preservative powers. They brewed cranberry mixtures to draw poison from arrow wounds. They also pounded cranberries into a paste and mixed the paste with dried meat to extend the life of the meat.

The name cranberry was given to this plant because the Pilgrims believed the plant looked like the head of a sandhill crane and was originally named "craneberry." Over time, the "e" was dropped.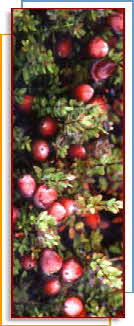 Selection
Good, ripe cranberries will bounce, which is why they are nicknamed "bounceberries." They should be shiny and plump and range in color from bright light red to dark red. Shriveled berries or those with brown spots should be avoided. Cranberries do not ripen after harvest.
Storage
Store fresh cranberries in a tightly-sealed plastic bag in the refrigerator. As with all berries, if one starts getting soft and decaying, the others will quickly soften and decay also. Be sure to sort out the soft ones if you plan to store them for more than a few days. Fresh cranberries may last up to 2 months in the refrigerator. Cooked cranberries can last up to a month in a covered container in the refrigerator. Washed cranberries may be frozen for up to 1 year in airtight bags.
Preparation
Cranberries are often too tart to be eaten raw. Most cranberries need be cooked before they are eaten. No matter what preparation method you choose, cook cranberries only until they pop because overcooking gives them a bitter taste.

Since cranberries are almost 90% water, do not thaw frozen cranberries before cooking them. Thawing, will cause the fruit to breakdown, resulting in soft cranberries.

Cranberries may be baked with a sweetener to make a topping or sauce, or they can added to baked goods, such as muffins. They are also good chopped with oranges to make a relish.
VARIETIES
There are four major varieties of cranberries: European, American, Mountain, and Highbush.

American
This variety is the most common in the United States. The U.S. Department of Agriculture uses this variety as the standard for fresh cranberries and cranberries used for juice. This variety is bright red.

European
This variety is smaller than the American and is eaten less often than other varieties. It is primarily ornamental.

Mountain
This variety is approximately ¼ to ½ inch in diameter and is bright red to dark red. It is occasionally found in markets.

Highbush
This variety is primarily used for jellies, jams, and sauces. It is also used as an ornamental fruit.

Make Cranberries Part of Your 5 A Day Plan
Add dried cranberries to your favorite hot or cold cereal for a tangy twist on breakfast.
As an easy way to include cranberry in your diet, drink 100% juice blends that include cranberry juice.
Sneak a few cranberries into your blueberry muffins to add color and flavor.
Cranberries are not only for turkey. Top chicken or pork with a cranberry relish for a nice change