WALNUT SAGE STUFFING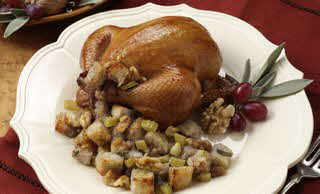 "When I first moved to Walnut Creek, California, my husband and I had two, huge walnut trees in our yard. For about four years, every fall, we picked and sold walnuts from those trees to help pay our property taxes! This stuffing is a savory blend that works well with holiday birds and as a great side dish for chicken."
Created By: Marion Cunningham
Servings: 16
Prep Time: 15m
Cook Time: 1h
INGREDIENTS
· 1 tablespoons unsalted butter
· 1 tablespoons extra virgin olive oil
· 1½ cups finely chopped onion
· 1½ cups finely chopped celery
· 9 cups bread, dried and broken into small pieces
· 2 cups coarsely chopped California walnuts
· 3 tablespoons finely chopped fresh sage*
· 1/2 cup finely chopped parsley
· 1 teaspoon salt
· 1 teaspoon freshly ground black pepper
· 3/4 cup low-sodium turkey or chicken broth, or water
* NOTE: Most supermarkets carry fresh sage, but you can always use dried sage, crumbled. Start with 2 tablespoons of dried sage and add more until it gives the stuffing good flavor.

DIRECTIONS
1. Preheat the oven to 325ºF.

2. Put the butter and olive oil in a skillet over medium heat. Add the onions and celery and cook, stirring often, until the vegetables are soft, but not browned.

3. Place the bread, walnuts, sage, parsley, salt and pepper in a large bowl. Add the onion mixture and toss well to mix. Slowly add the broth or water, a little at a time, tossing the mixture. Add only enough liquid to moisten.

4. To test the stuffing to see if the moisture and seasonings are correct, melt a little butter in a skillet, add a rounded tablespoon of the stuffing, and stir until lightly golden.

5. For a livelier flavor, add more sage, onion, salt and/or pepper. Transfer the stuffing into a casserole dish with approximately 2½ qt. capacity. Cover with foil, and bake for 45 minutes to an hour.

NUTRITION INFORMATION
Calories: 354
Total Fat: 25 g
Saturated Fat: 7 g
Monounsaturated Fat: 7 g
Polyunsaturated Fat: 10 g
Trans Fat: 0 g
Cholesterol: 15 mg
Sodium: 771 mg
Total Carbohydrate: 28 g
Dietary Fiber: 5 g
Protein: 6 g

Recipe and photo courtesy of California Walnuts (walnuts.org)